USA Automotive / Powersports announces their NEW Powersports Dealer Network!
Dealership owners, do you have powersport vehicles in inventory that you want to move in a hurry? We're talking to new and used automotive dealers, motorcycle dealerships, boat or watercraft dealerships, snowmobile dealers that accepted gently used motorcycles, ATVs or any other powersport vehicles as trade-ins or with excess inventory. But, we're also talking to other businesses that might be looking for an outlet or source for powersport vehicles like; auctions, impound lots, collision shops, parts dealers, even pawn shops, junk yards and golf courses. (Yes we will buy golf carts too!).
For nearly two decades we have been buying and selling Powersports Vehicles to Dealers all over the U.S. We buy and sell in volume and protect our reputation by providing, high quality, good pricing with fast pickup and guaranteed delivery options.
Motorcycles, ATV's, Four Wheelers, Side By Sides, we are looking to buy powersport vehicles of all sorts and from any dealer in the continental U.S. Whether you are a used or new car dealership that took in pre-owned motorcycles as part of a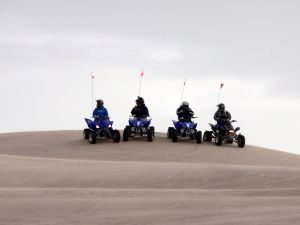 trade-in deal and now feel like you'll have a hard time selling them to customers, or you're a powersport dealership that just has too much inventory and would now like to submit a vehicle to us, the USA Powersports Dealer Network would like to build a working relationship with you that benefits us both!
We are looking to buy from any dealer and we pay cash up front when we make a purchase. Also, when completing a sale with you, we guarantee to keep all information confidential. Understandably, privacy is a concern and that's something we take very seriously.
On the flipside, we also want powersports dealers to know that we give you the opportunity to request a vehicle! If you view our current list of frequently changing and fast moving vehicles (provided after signing up), that you would like to add to your inventory or are looking for a particular vehicle that you have gotten customer requests for, we will sell it to you at special Dealer Only Prices!
Contact us today or give us a call at 1-419-956-3075 if you are a dealership owner of any kind. We are looking to create fruitful relationships with dealership owners, no matter if we are buying from them or selling to them!